Casey McDonald
is a fictional character from the Canadian TV series
Life With Derek
. She was played by
Ashley Leggat
.
Personal life
Edit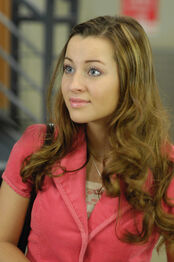 Casey McDonald, the oldest daughter. She is idealistic and independent, as well as academically ambitious. She has a Type A personality, being very particular about her academics. She accomplishes this by frequently studying in advance and does not accept poor grades. She frequently clashes with Derek because of their conflicting personalities and because of their roles as the oldest child in the household. She loves to dance to jazz, hip-hop and other types of music. She is also a cheerleader at some point in the show. She eventually obtains straight A's for her examinations, and got into Queen's University. In Vacation with Derek, it is revealed that Casey will double-major in English and Economics. Casey is a bit of a drama queen and she is used to getting what she wants. She takes school seriously, makes friends easily, and is far prettier than she realizes. However, for her, learning to relax and have a little more fun are harder than she thinks.
Living under the same roof as Derek may be unpredictable, but it's never boring. Annoying as he quite often is, Casey grows to enjoy the challenge of beating him at his own game. She still has a lot to learn about dealing with Derek, but she's a quick learner and surrender is not an option.
Sam-Casey Relationship
Edit
Sam Derek's best friend who has a crush on Casey but is constantly being influenced by Derek. Casey also has a crush on Sam. In the episode "Male Code Blue" they finally decide to go steady, but break up in the episode "Middle Man-ic". He is one of the guitarists in the band, D-Rock.
Max-Casey Relationship
Edit
Casey once dates Max. The schools quarterback on the football team.Before Casey he was dating Amy the Head cheerleader on the cheerleading team.But after there break up he asked Casey out.They started dating in the episode "Misadventures in babysitting".After a nice long realationship In the episode" Allergy season" Casey thinks she's allergic to Max's jacket making her think there's something wrong with there relationship so after the homecomming dance she breaks up with Max.
Truman-Casey Realtionship
Edit
Truman is a new kid in Casey's school. He first appears in the episode "61/2" where he rates girls out of ten and only gives stacey a 6 1/2. Casey starts have dreams of him but when Truman says she likes her she denies it intill the episode "No more Games" where the agree to date. Though in the episode "Truman's last chance" Casey and Truman go to a party together. But when Vicki kisses Truman Casey thinks he kissed Vicki and breaks up with him.But in the seccond last episode "suprise" they get back together during prom.
Community content is available under
CC-BY-SA
unless otherwise noted.